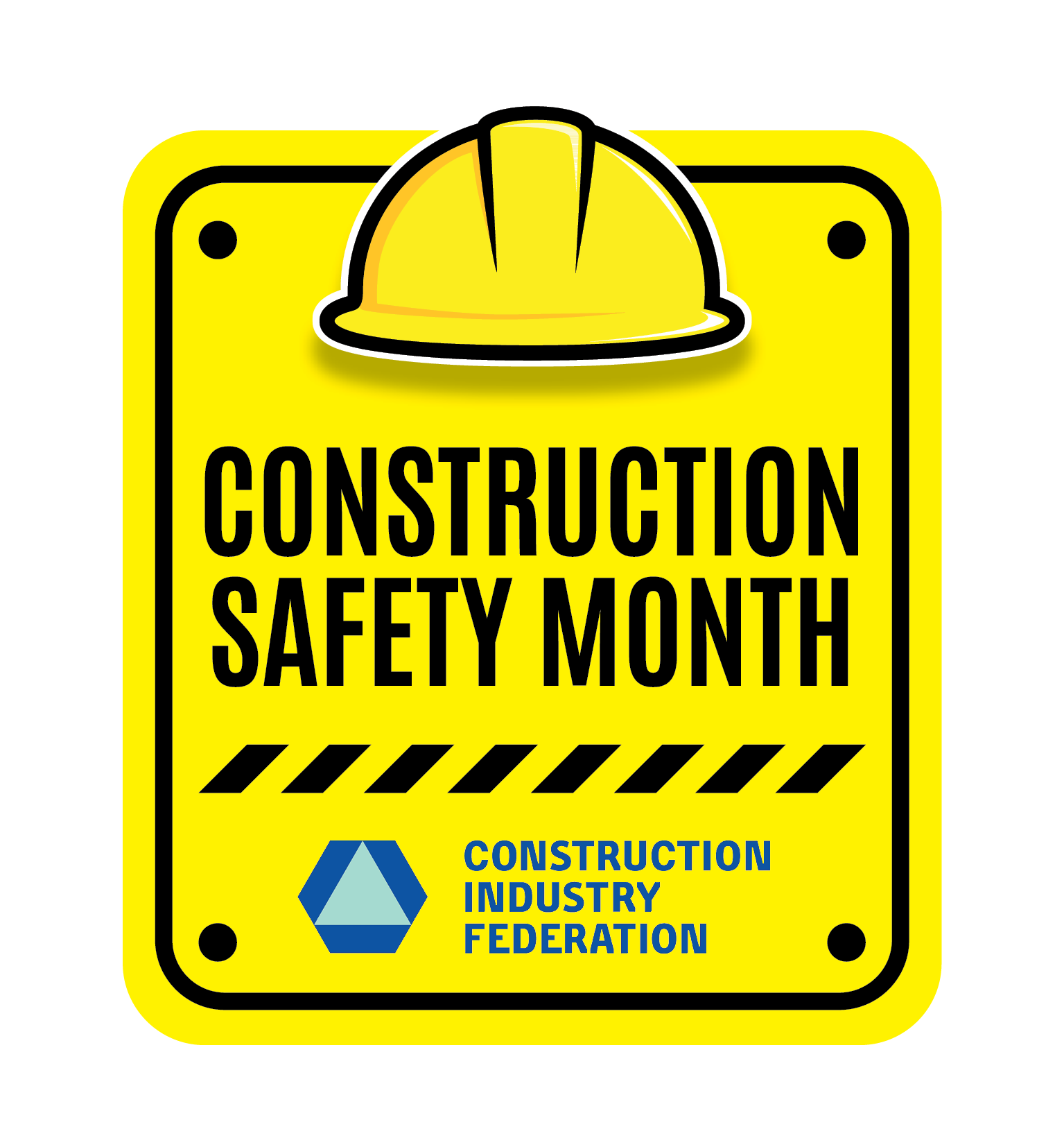 #CIFSafety23 Partners
October 1st – 31st 2023
Learn More about #CSM23 and Critical Risks
What are our 2023 Partners undertaking for Safety Month?
Clancy Construction
Company wide promotion of CIF Construction Safety Month, through site visits, EHS meetings, emails, WhatsApp group and LinkedIn.
Construction Safety Month posters on sites/head offices, EHS notice boards, offices and canteens etc.
Site stand downs on related weekly topics to include toolbox talks, videos and presentations by site management teams.
Guest speakers to sites to speak on related topics.
CField Construction Ltd
Guest Speakers on focus topic areas.
Directors Safety Walk on each project.
Company Group EHS Manager site talk.
Safety Demonstrations for working at heights and plant safety.
Defibrillator awareness training.
Toolbox Talks on Safety Month Focus Topics.
Emergency scenario drills.
School visit highlighting safety on site with quiz and prizes.
Stand Down for Safety.
Site Competitions aimed at promoting site safety
Asgard Cleanroom Solutions
We intend to run safety demonstrations and hold toolbox talks for Safety Construction Month.
Flynn
A number of events will be held across Flynn sites and facilities across Ireland, England and our international projects. Workshops and demonstrations will take place in conjunction with our trade partners and invited guests.
Mercury
Poster campaigns across all our projects for CIF Safety Month. Daily Toolbox talks.
Refresher EHS training on HRA and critical risks. Townhall meetings with staff and supply chain.
Online EHS webinars.
Coffee Mornings.
Interactive Toolbox talks and demonstrations.
Training for Critical risk identification, SPA practical's, review of RAMS, HRA audit refocus
Brian M Durkan & Co
Daily Toolbox Talks
Guest Speaker
Competitions
Shareridge
Share the messages regarding critical risks on all our projects.
Ardlee Consulting
Ardlee Consulting is very proud to be given the opportunity to partner with the CIF for Construction Safety Month 2023.
Ardlee Consulting will work with all our clients to raise awareness of the key areas being highlighted across the month by the CIF and will spend time working with our clients teams and workforce to raise the focus on safety across all their projects during this very important period in the construction calendar for 2023.
FLI Precast Solutions
We are holding health screening, toolbox talks, team building sports games
O'Flynn Group
The O'Flynn group are participating in all events held for Safety Month 2023
Glenveagh
Glenveagh are showing safety videos to their employees covering:
Excavation best practice,
Plant safety
Pedestrian safety
Lift safety
They also plan on conducting toolbox talks with contractors,  presenting Host talks on site and launching the Glenveagh Safety Commitment on all sites.
Elliott Group
Our sites in both Ireland and the UK will be getting involved in #cifsafety23 with events planned for each live site. Commencing on Monday 2nd October with a confined space demonstration. We have a tower crane simulator attending site to show operatives the site from a tower crane drivers prospective, including restricted views and blind lifts. We also have a series of external visitors booked to speak to operatives on topics including mental health and addiction.
Mackin EHS
We intend to do free training on Ladder Use and Ladder Inspection's for operatives.
Oak Project Management
As PSCS, we intend to focus on suicide awareness by promoting the OHANA suicide prevention programme on site. We will also focus on cancer awareness in week one. For the remainder of the time we intend to focus on WAH, Asbestos Awareness, Silica Dust and Manual Handling.
Wills Bros Ltd
Wills Bros Ltd are committed to fully participating across all our site and projects in cooperation and collaboration with our clients, regulators, designers  and project delivery partners promoting our ONE TEAM, Work safely ethos based on a PLAN DO CHECK ACT mentality and our culture of safety
Tritech Group
Tritech will conduct Flu Vaccines, Mental Health Awareness Training, Safety Awareness Talks and Driver Safety Training.
Kiernan Structural Steel
KSSL are taking part in CIF Safety month. We will be picking topics relevant to our industry and delivering talks and practical training with all our team. We like to get our employees families involved to really drive home the importance of working safely as families are waiting for us at home. This year we have planned a guest speaker to deliver a talk to our teams on building resilience.
KSTS Safety Services
We are providing safety talks all over Ireland for some of Ireland's biggest Contractors. We are honored to to take part of Construction Safety Month 2023.
MJ Conroy Construction
We will focus on 4 critical risks.
Work at Heights
Mobile Plant (and pinch points between mobile plant and fixed objects)
3. Silica Dust
4. Skin Cancer
We will issue campaigns and advice via ezines, site talks, and presentations on these topics. Focusing on one topic per week over the month.
Theatre at Work
We look forward to partnering with our clients in the construction industry using our theatre-based events and dramatisations to support safety culture on sites.
Shay Murtagh
Complete series of safety activities across our business, further reinforcing our safety commitments.
Pennypop
Supporting our clients in the construction industry with their safety communications.
Skillko
Skillko is a training and competency compliance platform built for HSE leaders, which uses data and AI to help ensure all staff are safe and compliant at the point of service. During Safety Month we will be showcasing how our clients are using our technology platform to promote and facilitate a safer workforce.
McGuinness Mechanical Engineering
We intend to make H+S a priority among our employees.
Janssen Pharmaceutical Sciences UC
We will run safety specific events in cooperation with our sustaining contractors on site. Aligning with the themes for the month we will look to raise awareness among our construction teams on site around safety, health and wellbeing in the spirit of the Johnson and Johnson Credo.
Farrans
Farrans are at the fore in the promotion of Safety and Wellbeing across all of our sites and projects. We will hold Safety Stand-downs with a presentation on the daily topic from the Construction Safety promotion. We will provide promotional safety material to all personnel including our clients representatives. We will issue new PPE to all staff and everybody gets a winter-warm hard hat liner.
Association of Consulting Engineers
We will be encouraging our members to share their stories and support the month's CIF activities.
Vision Contracting Ltd.
Raise awareness throughout October across all our sites as to the critical risks that we encounter in Construction and how best to highlight, address and continuously improve both our work practices and safety culture.
Nationwide Safety Training
Promote CSM23 across social media and with our customer base. Deliver Safety Talks on behalf of our customers based on themes highlighted by CIF.
Glanua Ltd
We are currently compiling our schedule for the month, but will be covering the following:
– Know your safe zones campaign
– Temporary works lunch and learns
– Demonstrations from Westport Equipment & other providers on critical risks
– TBT's
– Colouring competitions in our local schools
– Internal competition for best Safety Observations
– External speakers lined up
– Safety stand downs
Phase Engineering
Here at Phase Engineering we are also a Safety Training company 'Training24'. We are passionate about safety, upholding best practices/PPE & awareness in regards to all things safety.
Myself & my team have been discussing possible plans to roll out some safety training refresher courses across the company as well as spreading awareness through our website 'training24.ie'.
Energia Renewables & Development Limited
Site Talks on critical risks
H&S Keynote speaker talks
Senior Leadership EHS tours and talks
Drills relevant to risks on site
Felix O'Hare & Company Ltd.
Toolbox talks, raise awareness across all sites on relevant safety critical topics across the month of October.
TLI Group
As part of this year's CIF Construction Safety Month, TLI Group Ltd. is running a dedicated week of events that will focus on Health, Safety, Mental Health, and Wellbeing across all our sites and offices. This will include:
Safety Briefing – Critical Risks
Safety Poster Campaigns
Safety Standdown Sessions
Guest Speakers
Mental Health Survey
Quizzes and Competitions
Mainline
Run all the alerts and safety days to co inside with the CIF construction month.
Give away a Lenovo Tablet Computer to promote the month.
We are running a Mental Health First Aid course for 12 people within the company for different departments 4. All tool box talks will highlight the Focus on Critical Risks 5. Look to bring some suppliers on site for the TBT
Errigal Group
Errigal Group is conducting safety campaigns and toolbox talks across all its projects in Ireland, Uk, and Europe.
Ashview Consultants
Ashview Consultants is committed to promoting improved health and safety within the construction industry, and we are excited to participate in this important initiative. As part of our contribution to Construction Safety Month our experienced team will organize an informative on-site talk aimed at raising awareness about critical risks within the construction environment and we will arrange a supplier visit to engage with industry professionals and discuss the safe and responsible usage of construction products and equipment.
We understand the importance of collaborative efforts in driving positive change, and we are enthusiastic about contributing to the success of Construction Safety Month.
Dornan Engineering
Promotion of our groupwide Employee Assistance Programme and H&W calendar. Plus additional support of the Lighthouse Club.
Mental Health & Wellbeing Workshops on sites – led by our H&W Consultant.
Toolbox Talks on all sites across the month.
Presentation on ATEX and associated dangers.
Rebranding October as OSH-tober on our projects.
Focusing on 'Finishing Strong' as one of our projects moves towards its end. Emphasis on different topic each day – Manual Handling, Tools & equipment, Emergency Response, PPE, COHE, Work at Height. Daily pre-start TBT's with supervisors. Weekly Quiz and Housekeeping focus daily
MTM Engineering Ltd
During the 2023 annual CIF Safety Week Campaign MTM Engineering Ltd have set out the following
Access & Egress:
-Daily Practical TBT's across all Irish and European Projects, -Develop Access and Egress reports each week for the month of October and measure safe systems of work on access and egress. This will also be developed with Working at height awareness practical TBT's.
-LOTO Awareness programme role out on LOTO and Hazardous Energies applicable to the company scope of works across all current projects.
-Leadership: Senior Management to complete site safety Audits across all projects over the month of October with the MTM In House EHS Advisor teams.
Torbuild Ltd.
Health and safety campaign focusing on identified key critical risks on all our sites through -Tool Box Talks -Site Management Briefings
CET Connect
Company wide promotion of  CIF Construction Safety Month, through site safety meetings, morning safety calls,
emails and tool box talks.
– Director safety walks
– Emergency scenario drills
– Site competitions aimed at promoting safety
SafetyCare
Social media campaign based on construction safety and SafetyCare.
Email campaign to customers in construction sector
M&P Construction Ltd
We are proposing to have a company wide promotion of CIF Construction Safety Month, through site visits, EHS meetings, emails.
The Construction Safety Month posters will be displayed on sites/head offices, EHS notice boards, offices and canteens etc.
Site stand downs on related weekly topics to include toolbox talks, videos and presentations by site management teams.
CWHT have been requested to come to site .
Cairn Homes
Cairn are fully committed to participating across all our sites in cooperation with our employees and our supply chain to continuously improve the H&S standards and awareness of each trades critical risks. The following events will be taking place across all Cairn sites.
–       Site stand downs and breakfast mornings.
–       "No Falls This Fall" campaign across all sites throughout October.
–       Company wide promotion of CIF Construction Safety Month, through site visits.
–       Construction Safety Month posters on sites/head offices, EHS notice boards, offices and canteens etc.
–       Site stand downs on related weekly topics to include toolbox talks and presentations by site management
teams.
–       Guest speakers to sites to speak on related topics
R&C Safety
We propose a brief presentation of the Safety Aspects of the MEWP Equipment( Amongst various other pieces of work equipment)  whereby the Basic Operation of the machine will be outlined. The Safety checks that will need to be carried out each day, what the equipment can do, what can go wrong etc. We will incorporate the issue of Working At Height and the correct PPE that should be worn.
In addition, we will talk to the clients regarding the critical risks involved in each specific job.
Conway Engineering
As part of safety month, we will compile a review of our works to determine the critical safety risks. We will then hold a number of safety stand down meetings to review and discuss with our own employees and our delivery partners.
We will follow on with the documentation
Weltec Engineering Ltd.
We are currently carrying out health & wellbeing workshops across our work locations. We will also be carrying out TBT on the following topics during Safety Month.
Access & Egress
Live Services
Safe Working at Height
Safe Use of Mobile Equipment
Mental Health & Wellbeing
CJK Engineering
Speakers from CJKs supply chain on topics surrounding critical risk control Business Unit Lead / Directors site walks and interaction with field staff across CSM Onsite demonstrations for working at heights, control of hazardous energies, plant and equipment etc.
Multiple Toolbox Talks on Safety Month Focus Topics.
Demonstration's onsite from CJK training partners Health and wellness sessions Site Competitions aimed at promoting Environment, Health and Safety
Clonmel Enterprises Ltd
We will be using the first week to re-promote our internal employee assistance programme.  While also attending each of our sites to carryout mental health awareness training on recognising and managing stress, anxiety, and depression and encourage open discussions about mental health.
Each of our sites will be responsible for promoting physical activity and nutrition through weekly challenges or competitions.
Our identified 5 Critical Risks are :
Mobile Plant
Excavations
Safe Lifting & Loads
The Public & Traffic Management
Safe Use of Tools & Equipment.
Each of the critical risks shall be assigned to a day and we look forward incorporating engaging visuals, signage, and safety video 's created by our HSEQ team with the help of our crews, with the aim of reinforcing our safety messages to all our employees, agency workers and subcontractors through our online training portal.
Moston Construction
Keep our sites updated via Safety Alerts on the weekly topics for Safety Month 2023, including relevant Toolbox Talks for use on sites.
Advanced National Training Services
Larkmount Developments Ltd.
We are bringing a First Aid trainer to site to carry out CPR demonstrations and will carry out Tool box talks weekly.
Trident Building Consultancy
Trident's participation in  the CIF Safety Month campaign will involve the following:
– Highlighting the critical risks of our employee's roles on site  through Asbestos Awareness Training and Working at Height Training
– We will be assessing the ergonomics of our work environment and work stations, to ensure all work tasks are carried out in a safe manner
– We will also promote the importance of Positive Mental Health in a Work Environment, through games and activities at our annual company wide team building event called "Trident Day", which is being hosted by our London branch this year
JCPS Mechanical
We intend to do complete an on site talk on some critical risks. Also we planning to see if we can get a supplier out to  our sites to talk through safe use of a product we use.
GMC Utilities Group
Weekly Tool Box Talks on the suggested topics, including  Positive Mental Health
Critical risks including Temporary Works, Safe (Un)Loading, Access / Egress, Mobile Plant, HV Electricity, Public Safety, Traffic Management Safety
Senior management safety tours to be undertaken,
Coffey
Throughout Construction Safety Month #CSM23 we will be working with our teams, clients, subcontractors, suppliers, approved training providers and other stakeholders to collaboratively highlight the benefits of managing our Critical Risks and to promote the services, support and information available to enhance our physical and mental health.
ASafe Global
We will be sharing our social media strategy throughout the month about 'Top Tips' and the 'To Know' on critical risks. On our sites, we will be hosting various toolbox talks on these subjects too and sharing this content to social media. Thanks very much.
MKO
MKO plan to get involved with the various themes and perform on site safety training with out clients to tie in with these themes.
John Murray & Sons Building Contractors Ltd.
John Murray & Sons will use the Construction Safety Month themes to reinforce the company's commitment to deliver a safe management system to provide a safe workspace for employees,  subcontract partners and visitors. We will use several different means to get the safe message out, from in-person TBTs to WhatsApp and email messaging.
Monami Construction
Monami Construction intend to provide site teams with the tools to reinforce and improve safety by providing talks and presentations to highlight key factors in safety and awareness in line with the CIF safety week.
Our safety advisors will conduct site training to highlight issues and provide key knowledge on how to solve and rectify any safety issues that may fall under each category.
To reinforce training received, our advisors will engage in question and answer sessions with site teams so they can highlight areas they may need help improving on and offer collaborative on-site training and co-operation to give teams the confidence to reinforce site safety and awareness.
JMG EHS Solutions Ltd
JMG EHS Solutions Ltd  continuously  work with all our clients  on a day to day basis  to raise awareness and ensure the appropriate control measures are in place to combat the Hazards that  are present in our industry today.
During this years CIF Safety Month we shall execute a targeted approach with our clients to review the principles of "Back to Basics" with the following elements to the fore;
Are Clients explicitly aware of their critical risks associated with their Package(s) of Works.
Are the appropriate controls in place to manage these identified Risks.
Are staff and there associated supply chain aware of these risks.
Are the appropriate controls in place.
This targeted approach will involve collaborative forums (e.g. workshops & TB Talks), site tours with client representative's  and demonstrations.
P&D Lydon
We are excited to embrace Construction Safety Month 2023 at P&D Lydon. We believe the month long focus will be a great new initiative for CIF.
Each week we will concentrate on the weekly focus items and key dates for critical risks through poster campagns, toolbox talks, stand down sessions, social media and employee engagement competitions
T&A Civil Engineering & Building Contractors
Company wide promotion of CIF Construction Safety Month, through site visits, Health & Safety meetings, Toolbox Talks, Emails, and social media.
T&A will continue to reinforce the company's commitment to deliver a safe management system to provide a safe workspace for our employees,  subcontract partners and visitors.
T&A are proud to be taking part in the CIF Safety Month Campaign.
Ralkore Ltd. Concrete Coring and Sawing Services
Ralkore Ltd. are delighted to  participate in this years Construction Safety Month Campaign  by carrying out toolbox talks and site briefings focused on our specific Critical Risks, The Importance of the Correct RPE and Dust Suppression Systems, and Positive Mental Health Awareness.
John J Duffy Construction
Daily Toolbox talks , some delivered by  guest speakers.
Molloy (Precast) Environmental Systems
Reinforce safety commitments across sites, factory and offices by working with our teams, clients, subcontractors and supply chain on a series of events and initiatives to highlight critical safety risks and place a spotlight on positive mental health, and health and wellness
Onnec Ireland Ltd
We intend to carry out TBT with all staff in the various locations that we operate out of.
Safety awards for overall personal contribution to H&S awareness within their team
Discussion with staff on how to identify Critical Risks identify and implement controls and review effectiveness.
Bretland Construction Ltd.
Bretland Construction are committed to full roll out of CIF Construction Safety Month across all sites, and to ensure our entire sully chain are fully involved in the process. We will deliver in-house Critical Risk Identification Training to staff, our directors will lead the way in carryout out additional site visits (and audits) and our wider supply chain will benefit from our Online EHS Awareness Webinars.
Townlink Construction
Townlink Construction intend to use the themes of the Construction Safety Month safety topics to integrate with our weekly toolbox talks and safety communications matrix  to deliver interaction presentations and discussions on all of our projects.
We hope to involve all of our subcontractors in all of these presentations, some of which will be given by external speakers to deliver these discussions.
We also hope to hold an interactive quiz with all participants on the final day with a prize giving following the last talk.
Ballymore Group
Ballymore will ensure that Positive Mental Health & Wellness & Critical risks are highlighted and discussed across all live sites during the the month of October:
– TBTs will be carried out on positive mental health & key critical risks across all sites during the month.
– Site Demos on critical risk areas to be carried out across all sites and offices.
– Engage with our contractors to carry out H&S talks & demonstrations on critical risks.
– Positive Mental health and wellness and critical risk posters to be displayed on noticeboards across all sites.
– Senior Management to reinforce the safety and health messages across all sites during the month.
Cóir Infrastructure Ltd
For construction safety month we will be undertaking site talks on various health and safety topics incorporating the risks posed and the associated control measures. We will also be undertaking talks on personal health topics including heart health, mental health and  healthy diets.
Gem Construction
Have a theme for each week across all projects.
Week 1 – Positive Mental Health talk
Week 2 – Safe working around Plant & Equipment demos on sites Week 3 – Safe Work at Heights and Lifting demo Week 4 – Slips trips and falls Practical demo safety week quiz across all projects
Positive Electrical
Weekly Site Toolbox Talks as standard with emphasis and involvement from all site personnel for Construction safety month. Competitions weekly for innovative ideas on improving site safety in specific divisions of the company. We are trying to arrange a guest speaker on use of Work at height equipment including MEWP, Mobile Tower etc.
Arkmount
People Plant Segregation, Working at height, Safety awareness, Scaffold Safety, Mental Health
– Lighthouse Club visit booked: Make it visible campaign
– Construction Safety Month posters across the organization
– Site Managers to carry out Tool Box talks to all the workforce to increase management involvement in safety
Radley Eng Ltd
Critical/High Risk Activities covered via Toolbox Talks on all Sites over the Month & Demonstrations  where these can be arranged also
O'Connor Sutton Cronin
Designer Duties Presentation for all Engineers / Design Risk Assessment Training / Menopause Awareness / First Aid Demonstration & Talk / Presentation by Aware Mental Health Charity
MMD Construction (Cork) Ltd.
Throughout safety month we intend to conduct many site talks highlighting every day risks involved in the construction industry. We are also focusing on health and wellbeing – on two days during the month of October we are offering free health check and flu jabs to all MMD Construction staff.
One Way Safety Solutions LTD
We plan to raise awareness about the importance of proactive safety measures  through toolbox talks, conduct on site safety assessments, and provide training to empower construction professionals with the knowledge and skills to mitigate risks effectively.
Duggan Brothers (Contractors) Ltd
Various Tool Box Talks ETC.
M&N Civil Engineering
We have site talks on excavations and plant safety. We have lighthouse club coming to site to have a chat on mental health. We are trying to organize a mobile health check van with a nurse to carry out a health check on our employees.
Ardmac
We will have, site stand downs on related weekly topics to include toolbox talks, videos, and presentations by site management teams on the critical Risks below including live interaction demonstrations.
Work at Heights with the use of Power Point presentations & practical demonstrations across the country on various sites including our sites in mainland Europe.
Electrical safety
Drivers Fatigue
Workstations & pre task planning –
Mental Health & Well-being – Guest speaker to visits numerous sites over the month to speak about Mental Health & Well-being.
With the aid of Construction Safety Month posters on sites/head offices, EHS notice boards, offices, and canteens etc. Company Emails & Safety meetings to discuss critical Risks further throughout the month.
Kilcawley Construction
Speakers will be brought to 3 of our sites on 3 different weeks for specific focus topics: Silica dust, moving plant and machinery and personal protective equipment.